Flush Mounted Elevator Intercom JR303-SC-IW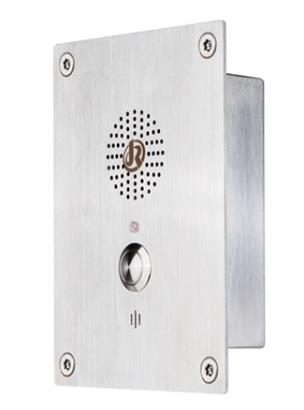 Product Approvals:
RoHS, FCC, CE
Packaging Details:
Unit size: 206 *136 *42 (mm) Packaging materials: pearl cotton, carton Net weight: 1.5 KG Gross weight: 2 KG
Model Number: JR303-SC-IW
This Elevator Emergency Telephone is based on a stainless steel faceplate and provide a clear handsfree, loud-speaking operation for any public area. It is designed to meet the needs of clients who experience loss through vandalism.
APPLICATIONS of Flush Mounted Intercom

Ideal for Railway Platform, Marine applications, Metro, Subway, Firefighter, Industrial, Prisons, Jail, Parking lots, Hospitals, Hotel, Elevator, Lift, Guard Stations, Police stations, Bank halls, ATM machines, Stadiums, inside and outside building etc.
MAIN FEATURES of Flush Mounted Elevator Intercom
- Standard Analogue phone
- Robust housing, constructed of stainless steel
- Vandal resistant metal button
- Hands free operation
- Programmable for speed-dialing (PPT)
- Can be programmed remotely by tone phone
- Non-volatile memory
- In wall mounting, simple installation
- LED indicator for ringing and calling
- Weather protection IP54-IP65
- 4 X Tamper proof screws for mounting
- Fast-fit terminal connection
- Telephone line powered
- CE, FCC, RoHS, ISO9001 compliant
TECHNICAL SPECIFICATIONS of Flush Mounted Elevator Intercom

Analogue Version
Power Supply
From the analogue telephone network

Supply Voltage
24 VDC to 65 VDC

Supply Current
20 mA DC to 100 mA DC

Ringer Volume
- 80dB(A) at a distance of 1 m
- 110dB(A) at a distance of 1 m (for external horn speaker)

Dialing Method
DTMF mode in accordance with ITU
-T recommendation Q.23.
Ambient conditions

Protection type
IP 66 as per EN60529

Operating temperature
-40°C to +70°C

Storage temperature
-45°C to +85°C